Wild Collagen Reds is a premium, wild-caught collagen supplement, infused with antioxidant-rich superfoods, using only the cleanest and most natural ingredients.
SKIN. ENDURANCE. IMMUNITY. LONGEVITY.
Our collagen powder was originally made as a surfers' supplement, but we soon realised how beneficial it was for all athletes and adventurers alike. Each ingredient was specifically chosen to support the body in stress, exercise, travel, and outdoor activities.
It is beneficial to the immune system, skin regeneration, collagen production, and reduces oxidative stress. It may just be the hardest-working marine collagen blend you ever try.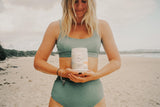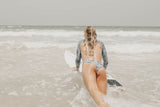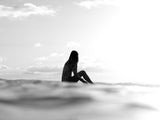 100% real food
Zero additives, flavours, colours, fillers, maltodextrin, or preservatives.

Sustainably sourced
Our commitment to sustainability means you can embrace your wellness journey without compromising the planet.

Transparency
Where what you see on the label is what you get – pure, clean, and sustainably sourced nourishment for your body.

Tastes great
Savour the true essence of real flavour, untainted by artificial sugars, colours, or flavours. Palatable for the every age.
CUSTOMER LOVE
We think we're pretty great, but don't take our word for it. People who try us love us!